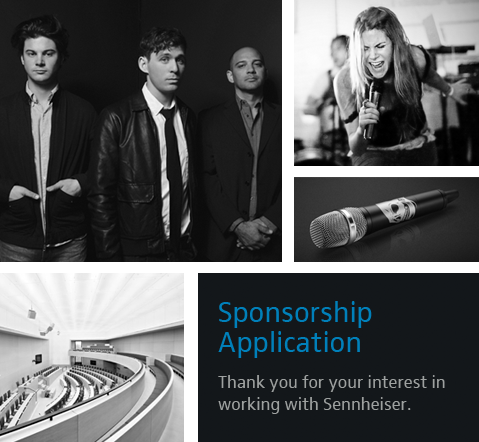 We at Sennheiser have a passion for sound. This passion has been driving us on our quest to continuously perfect our technologies and to find the perfect sound solution for the right application. Sennheiser's audio technology helps musicians, sound engineers and passionate music lovers craft their art, bring communities together and shape our cultural landscape. We are proud of being such an important partner in all of these ventures.

It is because of this passion for sound that we -whenever possible- endeavor to support artists, projects and organizations who share our passion. We will carefully evaluate every request presented to us and make a decision based on our capabilities and mutual goals.

This portal will help you to submit all necessary information and enable us to respond back to you in a timely fashion. Please fill out all the required contact information on the right and click on 'Start Application'. The application will take just a few minutes to complete.

Good luck!